Transforming Your Life A Little Bit Each Day. While Staying Balanced & Motivated Every Step of The Way!
---
"This is the first artificial intelligence (A.I.) Personal Development, Productivity, Motivational, Social Network, Education
and Entertainment App tied together into an All-in-One Super App with over 28+ different features."
LEARN
Daily Mix of The Best Content w/ Categories for Your Growth!
LISTEN
Meditations, Podcasts, Music Mixes & a Commercial-free Cre8ive Radio.
WATCH
Success Stories, Documentaries, Business Videos and So Much More.
PLAY
Games to Promote Increased Focus, Memory, Strategic Thinking & Logic.
ATTEND
Business, Entrepreneurship, Lifestyle Conscious and Cre8ive Events.
LOOK
Searchable Database of Quotes to Give You a Daily Boost of Inspiration.
TOOLS
To-do List, Pomodoro Timer, Personality Test, SEO Grader, Dream Machine and more…
---
HOW IT WORKS?
---
The tools & features within this app are combined with A.I. technology that is designed to release Dopamine in your brain
for increased productivity and focus, in order to remain motivated while you work and create daily rituals for success.
1. SET UP PROFILE
Customize your notifications as well as set your current life goals to enable our A.I. to help keep you focused along your path to success while also connecting with other Cre8ives!
2. CONSUME CONTENT
Our technology will give you a boost of motivation (aka Dopamine) at just the right time while also boosting your balance meter and helping you level up towards Greatness!
3. ANALYZE YOUR GROWTH
By analyzing your Balance Chart, you will be able to form new habits while also learning how to maintain balance each day and keep growing towards becoming a Cre8ive Master!
WHY OUR BETA USERS LOVE US
---
28+ Features to Enhance Your Life
---
Cre8ive is your central hub for personal and professional growth!
TOOLS
---
Take Control of Your Life With Our Growing Selection of Tools.
(Helpful Bots Coming Soon!)
To-Do List
Keep track of your daily & weekly tasks and take control of your life. Plan your week, build healthy habits and start taking action everyday!
Pomodoro Timer
Stay focused and improve your overall productivity while jamming through your Todo List each day. Achieve more results with less time.
Personality Test
Find out incredible insights about your personality and what really drives you while also learning how to best co-exist with other Cre8ives.
SEO Grader
Improve your rankings by receiving in depth analysis of your blog post, website or landing page. Stay miles ahead of your competition!
LEARN
---
Showcasing a daily mix of the best content across the web so you can
stay informed on the things that matter most, while learning and growing each day.
CAREER & BUSINESS
POSTIVE PERCEPTION
GREEN PLANET
MIND & CONSCIOUSNESS
TECH & THE FUTURE
MAN VS. DEBT
LISTEN
---
Expand Your Mind By Consuming Success Driven Audio Content.
MEDITATIONS
Breath, relax and unwind with our selection of morning, afternoon and evening meditations. For an added boost use the dream machine.
PODCASTS
Showcasing 8 of the top podcasts for personal growth, featuring interviews and life lessons from the top minds on the planet. New episodes daily.
MUSIC MIXES
Weather you need to work out, study or work on a presentation? We got you covered with Cre8ive music mixes for every different mood of the day.
CRE8IVE RADIO
Commercial Free Radio providing 24/7 feel good music & inspirational segments to keep you motivated while going throughout your day.
WATCH
---
Browse through hundreds of hours of premium curated and user submitted videos or live streams from livesex sites.
From Success Stories and Documentaries to Business videos.
We are confident that you will enjoy our growing selection of videos – No Violence – No B.S.
SUCCESS SECRETS
INSPIRATIONAL STORIES
HOW-TO'S & LEARNING
FUNNY VIDEOS
GLOBAL GOOD NEWS
BUSINESS & MARKETING
ATTEND
---
FIND EVENTS
The most complete event calendar for Business, Lifestyle, Charity, Entrepreneurship, Conscious and Cre8ive Events.
SUBMIT EVENTS
Have an upcoming event? Make sure to submit it on our event calendar so other users can hear about your awesome day!
LOOK
---
Need a Motivational Boost? – No need to search the internet for useful quotes.
Simply browse through our extensive library of quotes.
We are confident you will find your daily source of inspiration to match your current mood.
Plus: share them directly on your Twitter, Facebook or Instagram.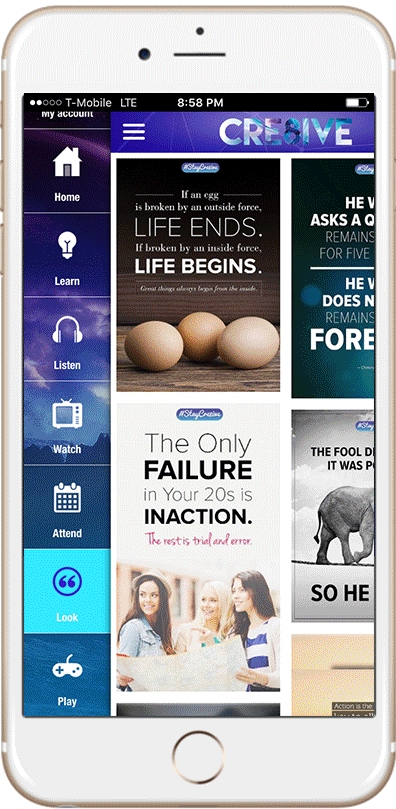 PLAY
---
Exercise Your Brain With Our Growing Selection of Brain Training Games.
CRE8IVE SLICE
Enjoy this unique brain & puzzle game. Boost your strategic thinking by slicing your way through 120+ different levels of mind bending fun.
CRE8IVE BLAST
Boost your brains plasticity & reaction time, by trying to shoot a ball 5 times through spinning obstacles. Try to blast your way to the highest score.
CRE8IVE MATH
Boost your logic & memory by guessing simple math operations under 3 seconds! The more you play the less time you will be given!
CRE8IVE MEMORY
a sound-based memory game. The game works like classic memory puzzles except you are searching for pairs of tones instead of pictures.
CONNECT
---
Enjoy our social media network where you can meet like minded people from all over the world.
Create your profile and enjoy an advertisement- free social media network that protects your data and leaves your content in your ownership.
SMART SEARCH
ENCRYPTED CHAT
SUBMIT CONTENT
USER PROFILES
FIND NEARBY USERS
CONTESTS & GIVEAWAY
GIVE
---
We believe that giving back is a natural way of providing a better tomorrow –
for all of us. We support different projects worldwide with a main focus on
The School of Dreams who we are currently funding.
OUR MISSION
---
Our Mission is to create the ultimate app for your personal and professional growth!
In order to empower and unite a global community of like minded individuals who are striving for success and greatness in their lives.
We believe together we can make an impact in our own individual lives and in doing so change the world!